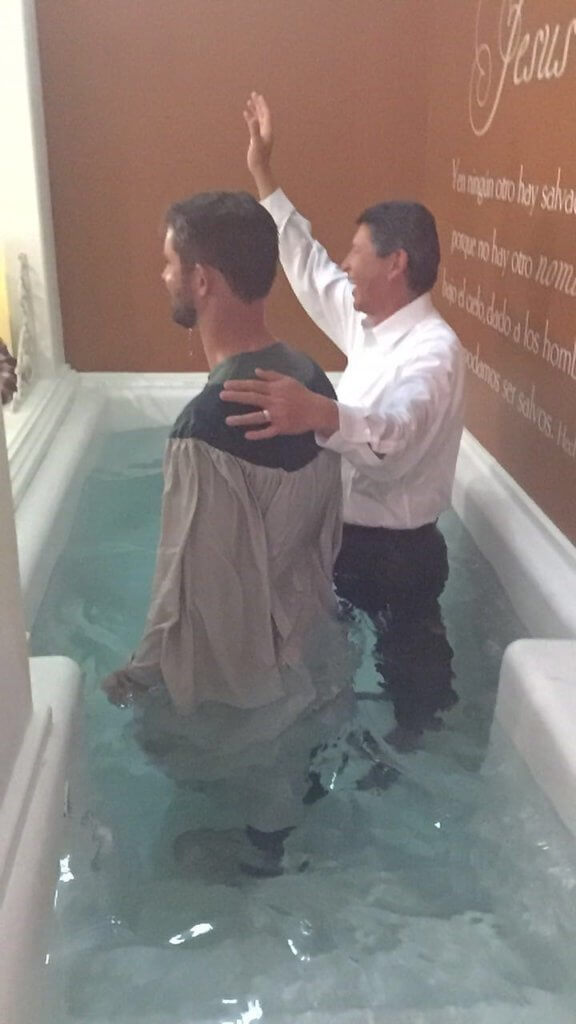 [stag_dropcap font_size="50px" style="normal"]T[/stag_dropcap]hese past 2 or 3 months, dealing with the possibility that I may have serious brain cancer, has seriously put life into perspective for me. This is me yesterday night getting baptized in the Spanish church I attend.
When facing death, one thing which tends to happen is all the un-important day to day stuff disappears. And what you're left with is everything important. Solomon speaks to this in Eccelesiates. For me this means (1) family, and (2) also realizing that I've drifted far far away from my Christian beliefs. It also means I've literally killed myself by working too hard for too long. I'd rather just just be at my house, laying down reading and writing, spending time with the fam.
Now that I'm facing an unsure future and possibly death one thing strikes me as ironic – how could a proposed atheist sit on their deathbed and not internally feel the tugging of God's calling? In other words, I think it is one thing for an Atheist to claim they are an atheist and quite a different thing for said Atheist to continue to proclaim this when facing death.
Similar arguments can be made against religious people as well: how can someone claim they are a Christian but live their life like they don't believe in God?
No man can serve two masters: for either he. will hate the one, and love the other; or else. he will hold to the one, and despise the other. Ye cannot serve God and money. Matthew 6:24
I'm not going to wax religious philosophy just yet, but what I want to briefly mention is this thought given to me by one of my best friends: There is a kernel of truth in religion and God. Yes various religions have different customs etc but there is a kernel of truth that unites them all. One being hope. Hope that your sins will be forgiven, hope that you can be healed by God's hand, hope that God will take care of you and you needs etc.
I've been in church my entire life. Heck, I even went to a Christian University, where I had to go to chapel and bible class everyday. Needless to say I drank a lot and partied a lot. I got baptized when I was 13 years old. Not old enough to really think big thoughts, just something my parents wanted me to do. Contrast this to being 32,  able to think about things, determine what makes sense and what doesn't. Yesterday I made the decision to get baptized again. I made my choice – I'm going to follow God to the last of my days as a result of looking at all the information and also being lucky enough to face death. If you haven't faced death, then I don't imagine you can get in my shoes. But when you do, and we all will, you will see what I'm talking about.
And yes I know, my blog posts have taken a turn for the moment, and I'm giving you more of an in-depth look at how I'm feeling, what I'm thinking, and so on.
So here's the deal this week: I've got two of the best neurosurgeons in Texas operating on me this Thursday in Dallas. From there I'll be recovering for about 5 days and then come back home to Amarillo. Then comes the waiting part – waiting for my skull to heal to begin treatment and waiting to see what it actually is that is inside my brain.
That's it for now! Have a great week folks!
James