The FAA has had significant difficulty in trying to come up with laws and rules for drones that make sense. I get it, the government wants to make money off of everyone that flies a drone. However, simply reading the rules pertaining to drones will give even the layman or non-American a good glimpse into how dysfunctional the lawmaking process truly is.
I'm going to give a high level summary of FAA Part 107.
If you've read some of my material you know that I like to view things on a philosophical level to see whether or not whatever I'm viewing makes sense. Let's take a look at Part 107 and see if it makes sense.
To understand Part 107 like all things you must go back to what came before – the FAA 333 Exemption. The FAA 333 Exemption believe it or not "required" the person flying the drone to have an actual pilot license. How does this make sense? I could go on and on about how having a pilot license in no way shape or form means one is a good drone pilot, but there is ultimately no need. Why? Because although this was the FAA "law", the FAA gave out 333 exemptions to everyone who applied, regardless of whether the person was in fact a licensed pilot. Say Joe Blow (a non-pilot) submitted an FAA 333 exemption a year ago. Joe Blow successfully received the FAA 333 exemption.
Another curious thing about both the FAA 333 Exemption and the current Part 107 rule is keeping the drone within sight. To be clear, it's hard as hell to see a drone at 200 foot in the sky much less at 400 foot. Ok, now that we have this basic framework set in our minds let's add a wrinkle.
Part 107 allows drone pilots to fly their drone up to 400 foot in the air OR 400 foot and higher if your drone remains within 400 foot of a structure. This means that if you're flying out in a pasture somewhere with no vertical structures, the highest you can fly is 400 foot.
However, if you're flying inside a city with tall skyscraper type buildings, you could theoretically fly up to 800 foot and still be within the law. Say the height of the skyscraper is 200 foot. You can fly your drone up to the top of the building and still have an extra 400 foot higher to go, thus meeting the requirement of the law laid out above. This means your drone will be 600 foot in the air (and legally within part of the law) but you obviously will not be able to see the drone (breaking another part of the law).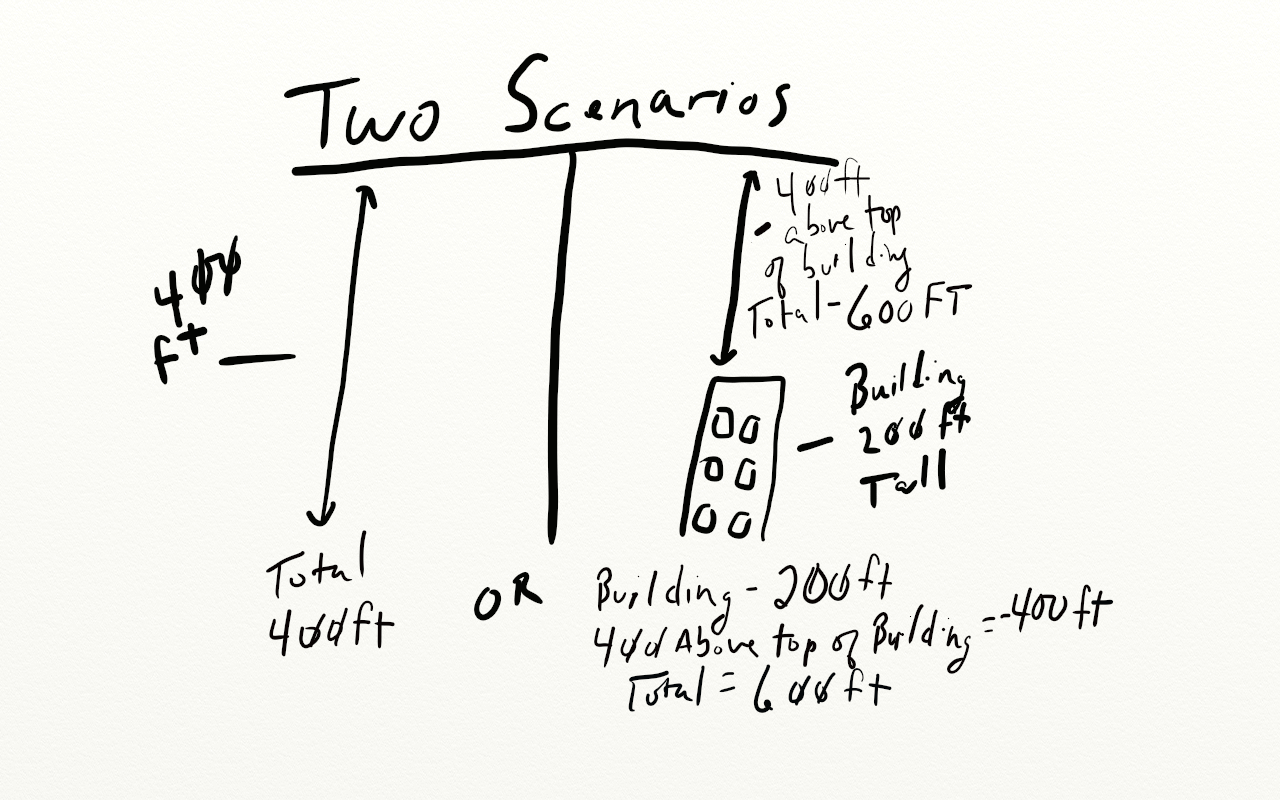 What I'm trying to show you is this – the FAA doesn't know what the law is. Thus, there is no reason for a person to get bent out of shape worrying about all the minute details of Part 107. On top of all this there is an overarching concern which is the FAA simply does not have the man-power to enforce all these intricacies.  
The moral of the story is this – The FAA doesn't know what their own laws are, they don't have the manpower to enforce every little wrinkle, so get your ass out there, get your Part 107, and start making money. Let the nerds and corporate employees worry about all the minutiae. The folks who read my blog simply don't roll that way 🙂